Back to Events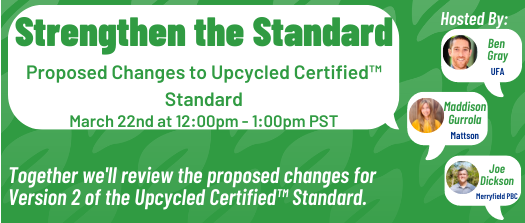 Strengthen the Standard: Proposed Changes to Upcycled Certified™ Standard
The Upcycled Certified™ Standard is open for comment!
Tuesday, March 22, 2022
Event Details
After many months of work the Upcycled Certified™ Standard is open for commentWe'll be reviewing the major proposed changes for Version 2 of the Standard. Plus... we'll be sharing news about the newly announced Upcycled Certified™ expansion into Canada.
Guest Speakers:
Joe Dickson - Joe is a 20-year veteran of the natural and organic products industry and a leading advocate for organic agriculture and integrity in food labeling. He is currently Co-Founder and Head of Quality Standards and Policy at Merryfield PBC, a new clean label rewards app that makes it easy for people to shop clean by discovering new products and brands they can trust and rewards shoppers for supporting brands that subscribe to a higher standard.
Maddison Gurrola - Maddison has a diverse background of culinary and science experience, and a passion and focus area for sustainable food systems. She currently works in the food science field, as a Food Technologist at Mattson, an industry-leading innovation firm that supports start-up's to fortune 500 companies achieve their growth objectives. Maddison's upcycled work was featured both in UPROXX magazine "Young Innovators in STEM" and Edible Sacramento's "Future of Food."
Ben Gray - Ben is a registered dietitian, food and nutrition expert, and holds a degree in Culinary Arts from Johnson & Wales University, a Bachelor's degree in Nutrition from the University of Arizona, and a Master's in Nutrition from the University of Georgia. He has spearheaded UFAs efforts to define upcycled food and create the Upcycled Certified™Program, the world's first third-party certification program for upcycled food ingredients and products.
For More Information: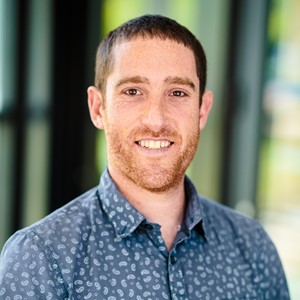 Ben Gray
MS, RD
Co-Founder & Strategic Advisor
Upcycled Food Association
There will be a Q&A so please bring your questions!